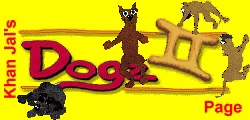 Reset Frames
---
Welcome to my Dogz II page. I have done it. What you are now looking at is a full restored/revised Dogz II pages. Everything on these pages should work. If they don't, please e-mail me and tell me what's wrong. All the dogz that have links should be downloadable, those that don't, are grave markers for dogz files I have lost :(. I hope you all find this very useful.

---
Index The first and original page. It provides links to all my other sub pages.
About Me This page is all about me, the person that makes these wonderful pages.
Amber - This page is about Amber, my wonderful girlfriend.
-Backgrounds New exciting backgrounds for your Dogz II playpen!
-Dogz The Dogz of Dogz II (Official and Hexed)!
-Forum Post questions or comments about Dogz II here.
-Links Links to some of the best Petz sites around!
-My Dogz Here is where you can find out about the dogz I own!
-Toyz What are all the toyz that come with it? What are the latest toyz? Go here for the Official and Hexed toyz.
-Trickz What are the trickz dogz can do?
Laser Tag - You can look at the latest Laser Tag "Home" gear like Laser Challenge, Lazer Tag, and Laser Command. There is no arena gear on this page yet.
Turtles - All the pet turtles I have had.
WebCam See me on my WebCam!


Dogz II owners have been here since April 14, 1998.
LE FastCounter